07/11/2022

- Features
Blue light, red alert!
Protecting your skin against the dangers of the sun and HEV blue light
WHAT IS BLUE LIGHT?
The sun emits optical radiation that reaches the surface of the Earth. We divide this optical radiation into 3 bands:
ultraviolet light (UV)
with a wavelength of 290 to 380 nm,
visible light
between 380 and 780 nm and
infrared light (IR)
from 780 to 10,000 nm.
In the spectrum of visible radiation, there is visible blue-violet light which is the part of the spectrum containing the most energy. It corresponds to the spectral range from 380 to 450 nm.                                                                                                  
av_suncare_50ml_en-uk_3282770149524.png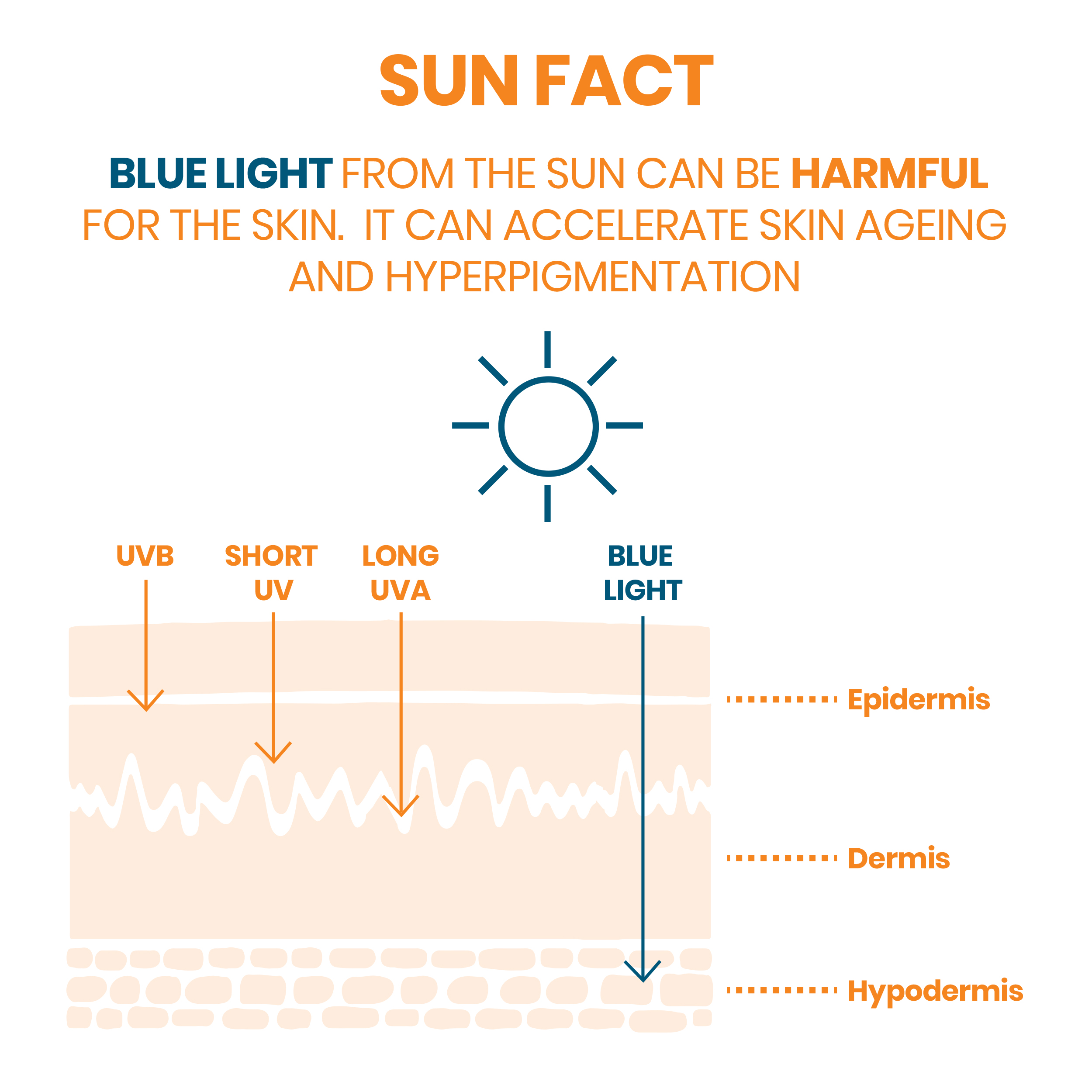 FROM THE EYE TO THE SKIN
Researchers first discovered the harmful effects of light in the field of ophthalmology because the retina is exposed almost exclusively to the visible part of the solar spectrum (380-780 nm).
Years of research have established a causal link between eye disorders and retinal exposure to blue-violet light. This high-energy radiation penetrates deeper into the layers of the eye until it reaches the retina and induces oxidative damage to the retinal cells. This damage plays a key role in the pathogenesis of age-related macular degeneration (AMD) leading to central vision loss. AMD is the leading cause of visual impairment in developed countries, so it is necessary to protect your eyes from blue light throughout your life.
BLUE LIGHT – A TYPE OF LIGHT WHICH WE NEED BUT WHICH CAN BE HARMFUL TO OUR SKIN
Photons belonging to blue-violet light are found in large quantities in daylight, especially when the sky is clear, and penetrate even deeper into the skin layers than UV light. These short-wavelength photons (blue-violet) are sufficiently energetic to cause the formation of reactive oxygen species (ROS) which, like UVA, damage all cellular components: lipids, proteins and DNA.
Skin exposure to high-energy light can have a harmful effect that promotes photoaging and hyperpigmentation and can even increase the risk of cancer.
CATALYST FOR SKIN AGING
It has been demonstrated that blue light, in contrast to green, red and infrared light, causes a significant increase in oxidative stress in live skin.
Even if their efficiency in inducing oxidation is less than that of UVA, on average by a factor of 4, blue light photons are at least twice as abundant. Thus, the cumulative absorption of blue light by skin tissue creates damage that accelerates skin aging.
PIGMENTOGENIC EFFECT 
When studying the effect of blue light on pigmentation, it was found that this pigmentogenic effect was concentrated in a narrow wavelength band corresponding to blue-violet light.
The pigmentation induced by blue-violet light is more intense and long-lasting compared to that generated by UV light. There is convincing experimental evidence suggesting that exposure to blue light plays a key role in pigmentation disorders and the appearance of age spots.  
WHAT ARE TODAY'S SOLUTIONS TO PROTECT YOUR SKIN FROM THE HARMFUL AFFECTS OF BLUE LIGHT?  
MINERAL SCREENS – these are blue light reflectors however the cosmetic qualities are inferior to organic screens.  
ANTIOXIDANT MOLECULES – act downstream and target oxidative stress induced by blue light.  Although these are beneficial, they do not offer complete protection.  
TRIASORB
TM
- 1st organic screen that acts upstream by filtering (absorption + reflection) blue light.  This in turn prevents the generation of free radicals.
Clinical outcomes of TriAsorB
TM
:
-95% cell damage induced by blue light
*
Up to -72% pigmentation spots induced by blue light
*
*References available on request  
untitled_914_x_186_px.mp4
A FORMULA THAT MEETS AVÈNE'S DUAL COMMITMENT TO RESPECT THE SKIN AND THE ENVIRONMENT 
The new TriAsorB™ filter full meets Pierre Fabre Dermo-Cosmetics' Conscious Care approach. Useful, well thought-out and ethical, it aims to formulate active ingredients that are increasingly respectful of the skin and the environment.
OUR BEST PREVENTION AGAINST SKIN PHOTOAGING 
Resulting from Pierre Fabre medical research and revealed in 2020 via the launch Intense Protect 50+, TriAsorB™ has extended the foundations of photoprotection by offering an ultra-broad spectrum sun protection against UVB - short UVA - long UVA, and beyond UV, up to 450 nm, against blue light, which has been proven to accelerate skin ageing.
Integrated into the patented Eau Thermale Avène filtering system, TriAsorB™ enhances the skin's level of protection against blue light related photoaging and thus offers ultra-broad sun protection and helps prevent deep, visible skin damage.
untitled_914_x_186_px.png

NEW DAILY SPF RANGE FOR THE FACE
Formulas adapted to the needs of dry and
very dry skin
,
normal to combination skin
and
oily skin
with imperfections.
Ultra-broad spectrum sun protection to prevent sun-related skin ageing
Formulated with active ingredients carefully selected to balance and respect every type of skin
Up to -72% of pigmentation induced by blue light1
1 In vivo study performed with the tinted Fluid 50+ on 16 subjects and the Fluid 50+ on 20 subjects. 
untitled_design_9.png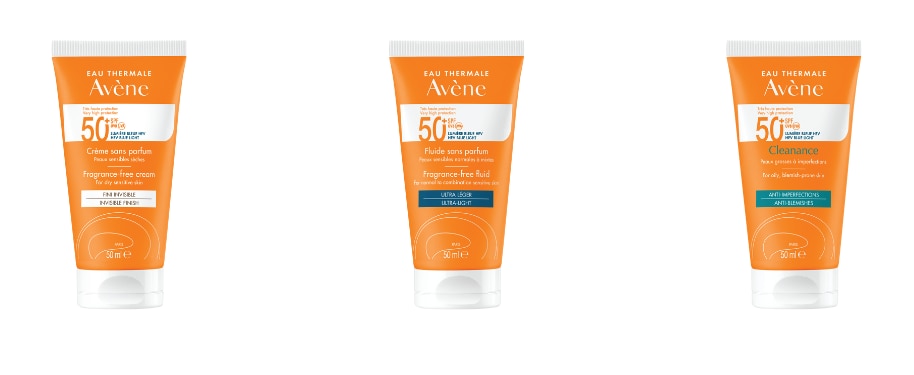 INTENSE PROTECT 50+
The ultra-broad-spectrum sun care product meets the highest requirements for the skin while minimizing our impact on the environment.
95.3% reduction in DNA damage induced by blue light¹
¹In-vitro test. Topical application (2 mg.cm-2) Measures performed on reconstructed epidermis. Stress: simulated exposure to blue light. Quantification of oxidative DNA damage by immunohistochemical analysis.