06/12/2021

- Features
A New Era for Photoprotection
Pierre Fabre Laboratories' First Sun Filter | TriAsorB™
The 1980s were a turning point for sun protection with the discovery of the role of UVB rays as a cause of sunburns, the immediate and visible consequence of the harm caused by photo-radiation. Later, in the 1990s, the scientific community demonstrated the dangers of a new type: UVA rays. These rays can penetrate more deeply into the skin and cause greater damage: less visible and identified over the longer term, they are responsible for photo-aging of the skin and skin cancers.
High-energy visible blue light
More recently, new scientific findings have demonstrated the harmful impact of high-energy visible (HEV) blue light on skin cells1-4: it damages cellular components via oxidation mechanisms that lead to skin aging and the development of skin cancers. Located beyond UV rays, high-energy visible blue light penetrates even deeper into the skin than UVA rays: it reaches the hypodermis. It also contains a high quantity of energy, hence its name - high-energy visible blue light – and has been  proven to cause damage to skin cells through sun exposure1-4.
BLUE LIGHT
The sun vs. monitors and screens
The blue light from computer monitors and screens cannot be compared to the intensity of the blue light from the sun. This is evidenced by the fact that one can look at a screen for hours, but never directly at the sun. The sun's light intensity can be up to 1,000 times greater than that of screens5, and one would have to spend close to three months on a phone to have the same exposure as one hour in the sun. Another difference: outside, the skin is exposed directly to the sun while the eye is mainly exposed to radiation diffused by air particles and reflected by surfaces.
By focusing on high-energy visible blue light,
Pierre Fabre Laboratories have taken a major leap forward in photoprotection:





triasorb.png

PIERRE FABRE LABORATORIES'
FIRST SUN FILTER
An innovation from 20 years of research
A sun filter inspired by the natural photoprotective properties of melanin...
Melanin naturally provides photoprotection suited to the skin. It provides daily protection from the acute effects of sun rays – sunburns – and also long-term effects – photoaging and skin cancers. Melanin also protects from high-energy visible blue light. Inspired by this unique quality, TriAsorB™ offers the skin ultra-broad and effective photoprotection.
...absorbs and reflects harmful rays
TriAsorB™ is the first organic filter with the unique ability to absorb and reflect the harmful parts of the solar spectrum, which include UVB rays, short UVA rays, long UVA rays and high-energy visible blue light.
...safely protects the skin and respects the environment
The new TriAsorB™ filter is in line with Pierre Fabre Dermo-Cosmétique's Conscious Care initiative – an effective, reasoned and ethical approach which consists of formulating active ingredients that are respectful of the skin and the environment. TriAsorB™ stays on the surface of the skin, whether it is healthy or damaged6. Tests have proven that it protects DNA from the harm caused by UV stress7 and high-energy visible blue light8.
 
TriAsorB™ filter has undergone many tests that have proven that it is respectful of marine biodiversity9.
untitled_design_11.png

Intense Protect 50+
Suitable for the most sun-sensitive skin
11
Intense Protect 50+

is suitable for all skin types, including the most sun-sensitive skin: babies as of 6 months*, children, pregnant women, very light phototypes that lack natural melanin, damaged skin, post-tattoo or skin suffering from the effects of cancer treatments, thanks to its high protection and tolerance properties.

For all types of exposure,
even under extreme conditions12
Intense Protect 50+

is suitable for all types of exposure and also the most extreme and demanding conditions for sun protection: high altitudes, high seas, dry climates, humid tropical heat, and nautical sports.




graphic_benefits-07.png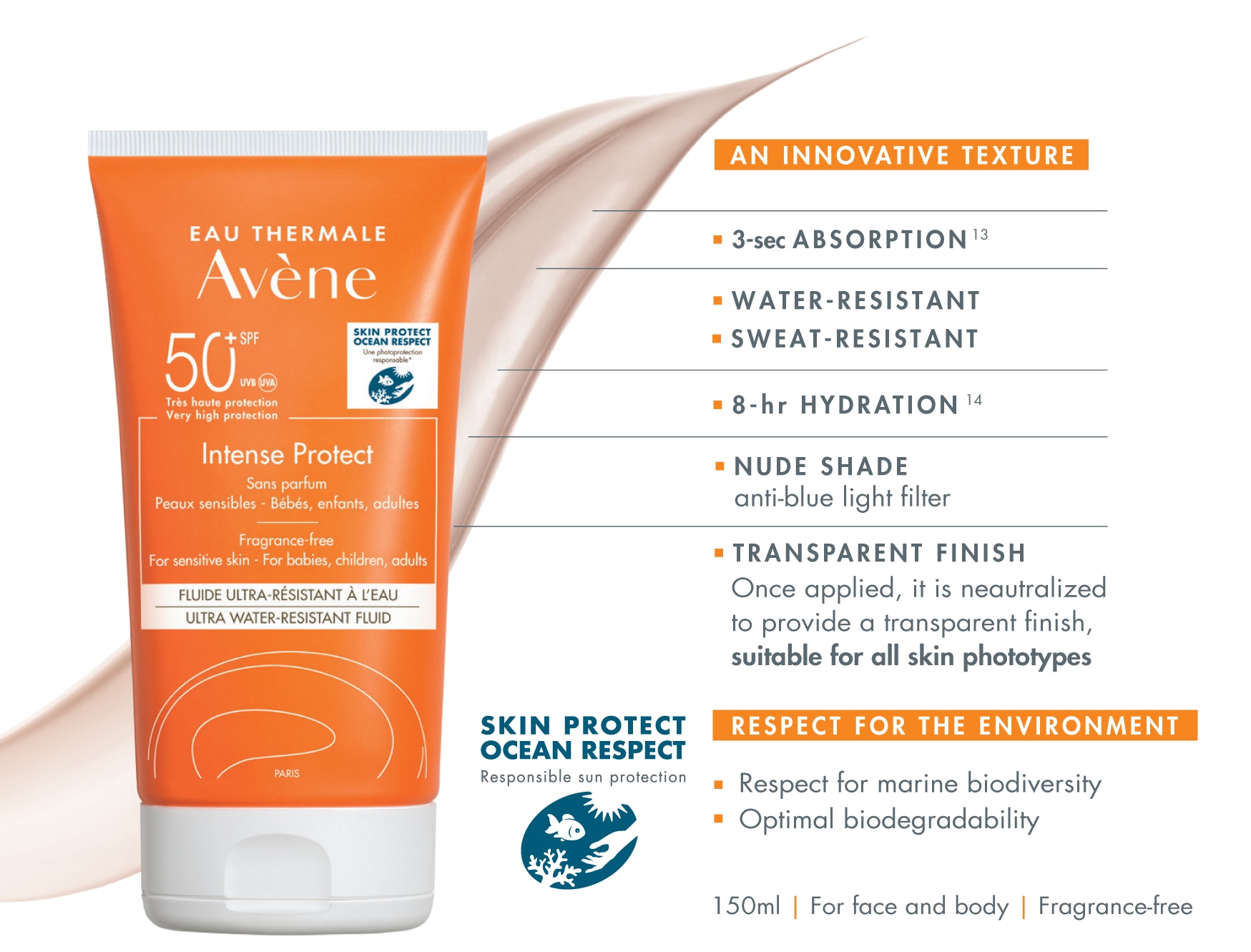 Find out more:
1. Liebmann J, Born, M, Kolb-Bachofen. (2009) Blue-light irradiation regulates proliferation and differentiation in human skin cells. Journal of Investigative Dermatology (2010) 130, 259–269. doi.org/10.1038/jid.2009.194
2. Nakashima Y, Ohta S, Wolf AM (2017). Blue light-induced oxidative stress in live skin. Free Radic Biol Med. 2017 Jul;108:300-310. doi.org/10.1016/j.freeradbiomed.2017.03.010
3. Botta C, Di Giorgio C, Sabatier AS, De Méo M. (2008) Genotoxicity of visible light (400-800 nm) and photoprotection assessment of ectoin, L-ergothioneine and mannitol and four sunscreens. J Photochem Photobiol B. 2008 Apr 25;91(1):24-34. doi.org/10.1016/j.jphotobiol.2008.01.008
4. Dong K, Goyarts EC, Pelle E, Trivero J, Pernodet N. (2019) Blue light disrupts the circadian rhythm and create damage in skin cells. Int J Cosmet Sci. 2019 Dec;41(6):558-562. doi.org/10.1111/ics.12572
5. Comparison based on data from the fluxometer.com website. Light intensity for an iPhone X: Blue light (weighted power): 8.14 ‑W/cm²/1h dose = 0.0293 J/cm². To reach the dose of 30 J/cm² which is approximately equivalent to the dose of blue light received for 1 hour of sunshine, it would take 1024 hours of exposure to an iPhone X or 86 days of 12 hours.
6. Topical application (5 mg/cm2) Measurements taken from explants of human skin. Three models used: healthy skin/healthy and irradiated skin/damaged and irradiated skin.
7. Topical application (2 mg/cm2) Measurements taken from reconstructed epidermises - follicular models. Stress: acute exposure to UV rays. Quantification of DNA damage (by LC/MS
analysis (liquid chromatography/mass spectrometry).
8. In vitro test. Topical application (2 mg/cm²). Measurements taken from reconstructed epidermises. Stress: exposure to simulated blue light. Quantification of oxidative damage to the
DNA by immunohistochemical analysis.
9. Tests performed by the Oceanological Observatory of Banyuls-sur-Mer, a partner of the European Marine Biological Resource Centre, on three key species of marine biodiversity – a
coral species, a phytoplankton species and a zooplankton species – in concentrations that represent those found in the environment for sun filters. TriAsorB™ was tested with the same
methodologies and by the same researchers as those referred to in the following publications: Stien, D. et al. A unique approach to monitor stress in coral exposed to emerging pollutants.
Scientific Reports 10, 9601 (2020). Thorel, E. et al. Effect of 10 UV Filters on the Brine Shrimp Artemia salina and the Marine Microalga Tetraselmis sp. Toxics 8, 29 (2020).
11. Based on toxicology and tolerance studies.
12. In vitro assessment of photoprotective efficacy under extreme conditions. Evaluation of the percentage of SPF resistance for extreme conditions.
13. Comparative evaluation using 15-20 panelists trained in sensory analysis of topical products.
14. 24H HI kinetics. 24 subjects.
*Babies and young children should not be exposed to direct sunlight. They should wear protective clothing (hat with a large rim, sunglasses, T-shirt, etc.).