18/07/2022

- Features
Finding relief with eczema-prone skin
A South African case study
Follow the six-month trial journey and progress of patients dealing with eczema-prone skin   while using the Eau Thermale Avène skincare routine

Eczema flare-ups getting you down? The skin condition is often characterised by excessive dryness, itching and skin discomfort – but the effects have a profound impact on quality of life, often impacting self-confidence, sleep quality and can cause physical and emotional scarring. At Eau Thermale Avène, we understand how living with eczema-prone skin can affect quality of life and that's why we endeavour to provide skin with soothing relief. We partnered with South African medical specialists; Dr Bonolo Mushiana; Dr Bhavna Singh and Professor Claudia Gray to recruit South African patients with eczema-prone skin. Each patient, with the guidance of their medical specialist, embarked on an Eau Thermale Avène skincare journey while journaling their progress over a six month period. 


                                                                                                                               

The Routine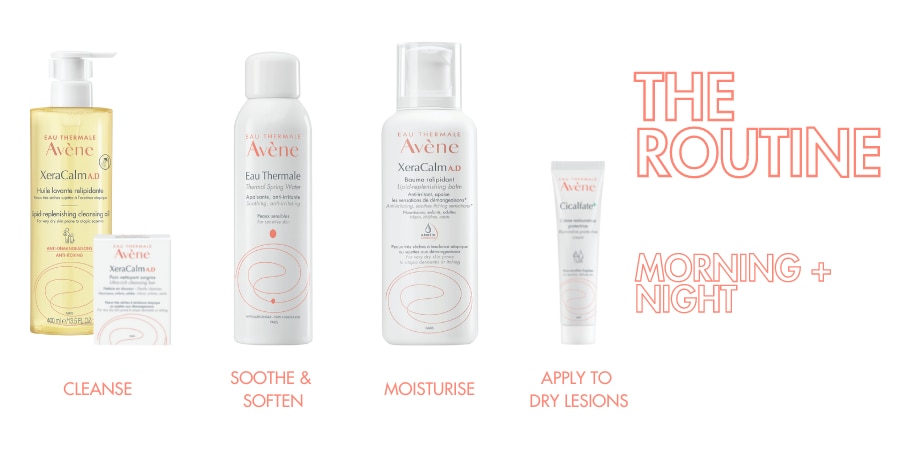 Each patient followed a dedicated Eau Thermale Avène skincare routine with guidance from their medical specialist. Their routine consisted of XeraCalm A.D Lipid Replenishing Cleansing Oil and/or XeraCalm A.D Ultra-Rich Cleansing Bar; Avène Thermal Spring Water Spray; XeraCalm A.D Lipid-Replenishing Balm and Cicalfate+ Restorative Protective Cream. 



MEET THE PATIENTS 

MEET JAMES

James (32) was feeling the impact of eczema on his quality of life with his self-esteem being affected when he presented Dr Mushiana with severe atopic dermatitis. Before starting his journey with Eau Thermale Avène, Dr Mushiana reported that her patient was struggling with lichenified eczema involving the whole body and that she was treating him with emollients and topical steroids but considering systematic therapy. 
Feedback from James after one month of using the XeraCalm A.D Lipid-replenishing Balm:     

                                                                                  

before vs 1 month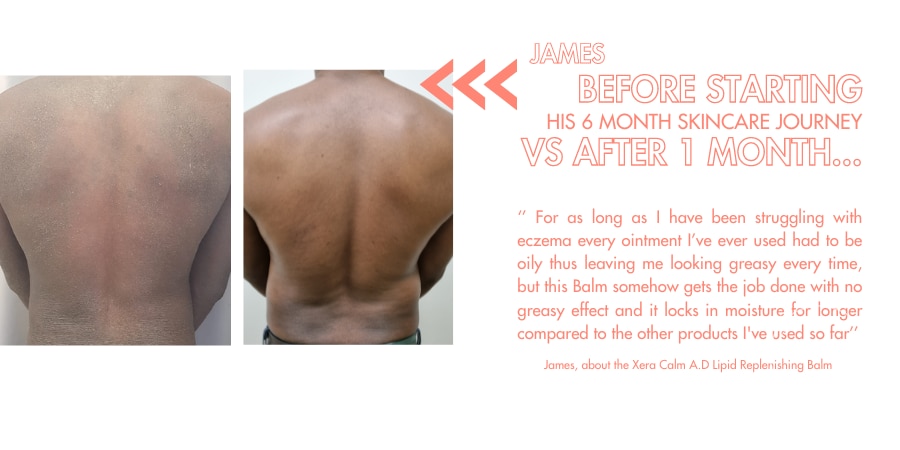 He also reported that after just one month he could feel that the Avène Thermal Spring Water Spray really helped to re-moisturise his skin after bathing instead of him feeling like his skin is dried out. 
After his six months journey, Dr Mushiana had the following feedback:
After 6 months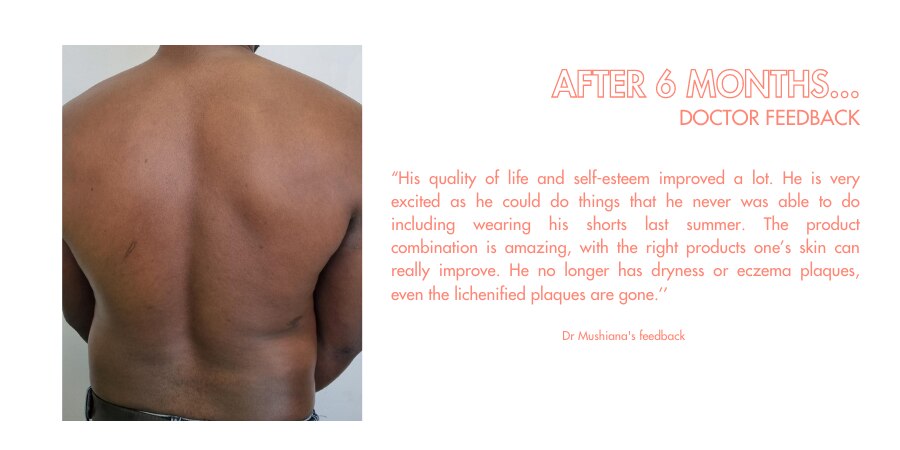 After struggling with eczema-prone skin since childhood, James found more relief than ever before, stating that "the past 6 months I've noticed my skin getting clearer and smoother and the texture is just amazing, it's hardly even itchy".
MEET NERISSA
Nerissa (26) started developing hand dermatitis which later progressed into chronic eczema especially over her hands, arms and legs, according to her dermatologist, Dr Singh. Nerissa is a physiotherapist, which requires repeated hand-washing after every patient, which only worsened the condition of her skin and weakened her skin barrier.
before vs 1 month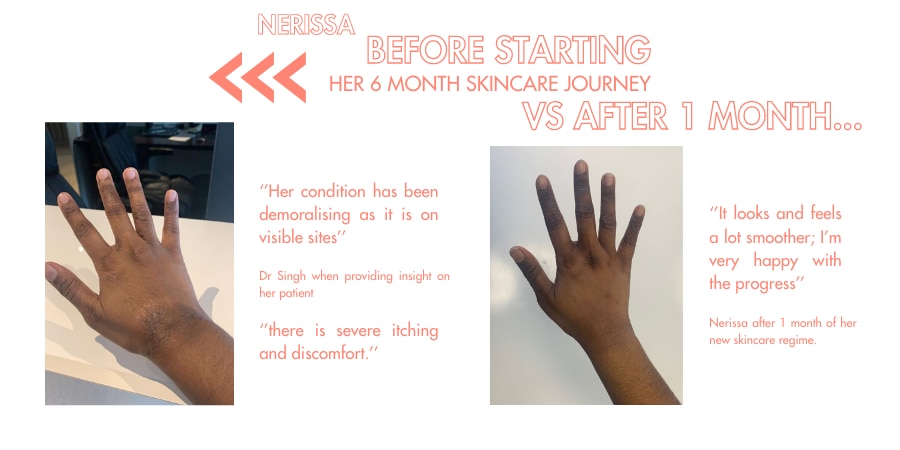 "The patient really enjoyed the products. There were no adverse reactions and they were well tolerated especially in our humid climate (Durban). Her profession involves using her hands a lot with certain oils and frequent washing, and that contributed to occasional flare-ups," says Dr Singh, giving feedback after six months of Nerissa following her dedicated Eau Thermale Avène skincare routine. 
MEET MCKENZIE
Since Mckenzie was six months old, she has been battling with "diffuse chronic excoriated eczema", which was present all over her body. Mckenzie (now 2) started her journey with Prof Gray and Eau Thermale Avène when she was 17 months old. Prof Gray nominated Mckenzie to partner with the study to find a sustainable, long-term maintenance programme after having been on a cortisone and emollient mix to manage flare-ups. 
before vs 1 month later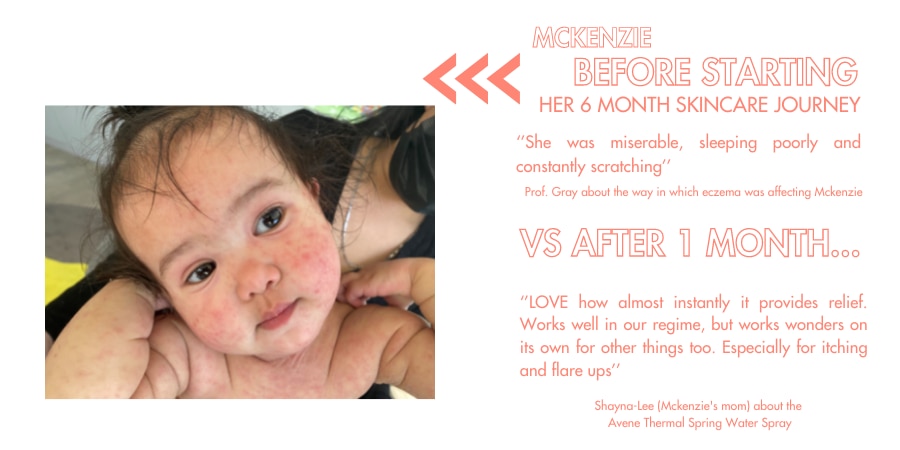 Mckenzie started using the
XeraCalm A.D Lipid-Replenishing Cleansing Oil
morning and evening with a fine mist of the 
Avène Thermal Spring Water Spray
 after cleansing and to soothe flare-ups. To replenish her skin's protective barrier and relieve itching, she used the
XeraCalm A.D Lipid-Replenishing Balm
on her body and face.
After one month of her new skincare routine, Mckenzie's mom, Shayna-Lee, said:
"Mckenzie is a happy girl again, playing and sociable. Less irritable. Skin is healing well."
Shayna-Lee found
XeraCalm A.D Lipid-Replenishing Cleansing Oil
especially helpful as she could add a few pumps of the oil to Mckenzie's bath and let the product do the work, gentle on her whole body while Mckenzie could be a little girl again and play in the bath.
After six months of using the skincare routine, Mckenzie had softer and smoother skin; her skin was less irritated; and as a result, she was less irritable and less unhappy.
after 6 month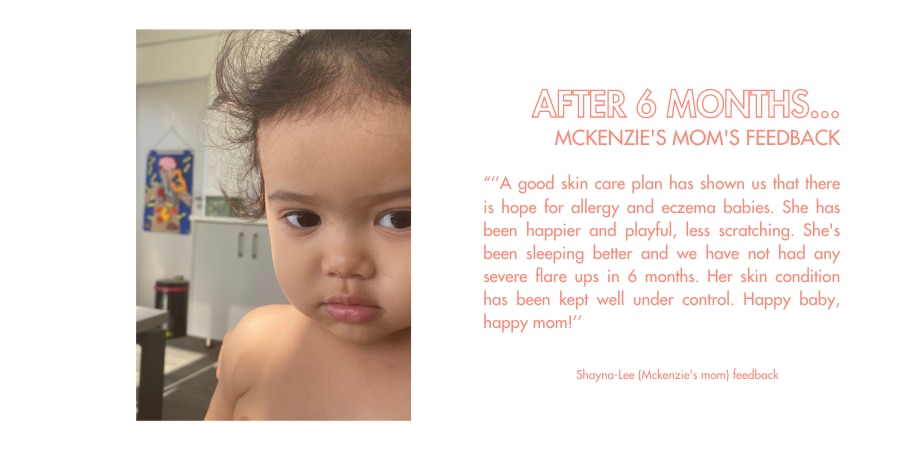 GET IN CONTACT WITH THE MEDICAL SPECIALISTS THAT HELPED THIS PATIENT JOURNEY: 



the professionals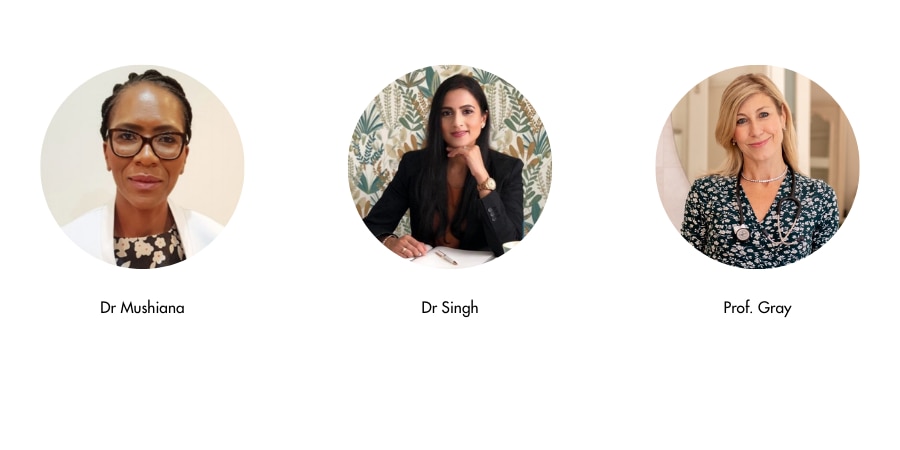 DR MUSHIANA: 
Mediwell Dainfern Medical Centre
Dainfern Square
2040 Broadacres Drive, Fourways, Sandton
011 300 2900
082 929 8940
DR SINGH: 
The Medical Centre Busamed
Gateway Private Hospital 
Umhlanga Ridge, Durban 
031 492 2131
(At various other practices as well) 
www.beyondskin.co.za
www.drderma.co.za/practice/DrBhavnaSingh
PROF GRAY: 
Kidsallergy Centre, The Park 
Park Road, Pinelands, Cape Town 
021 510 0336
www.kidsallergy.co.za
www.drclaudiagray.com