12/07/2018

- Features
Soothing relief for dry, itchy skin - Jayden's Story
Jayden Bekker (8 years old) from Pretoria had been living with severe eczema for most of his life. Eczema-prone skin is generally dry, rough and causes severe itching and discomfort.  Jayden and his family experienced this first-hand and had almost given up hope on finding a solution. "Jayden was affected both physically and emotionally. He was so shy and didn't want to leave the house out of fear that people would stare," explains his mom Lizelle. In September 2017, Jayden was given the opportunity to visit the Avène Hydrotherapy Center in the small French village of Avène with the hope of finding some relief of his symptoms, like various South African children before him. During his 3-week stay, Jayden underwent various therapies all incorporating the signature Avène Thermal Spring Water, which has been proven to soothe and calm the skin. He was accompanied by his mother and Paediatrician who were both amazed at the improvement in his skin's condition. 

"Jayden's skin looks so much better and the need for scratching is less. He can be a normal child again," shares Lizelle. "I can swim and play soccer now! My favourite product is the Avène Thermal Spring Water Spray because it is nice and cold and makes my skin feel better", says a happy Jayden.

Watch this video courtesy of Afternoon Express for the full story. 
 
Jayden uses:
Avene Family Essentials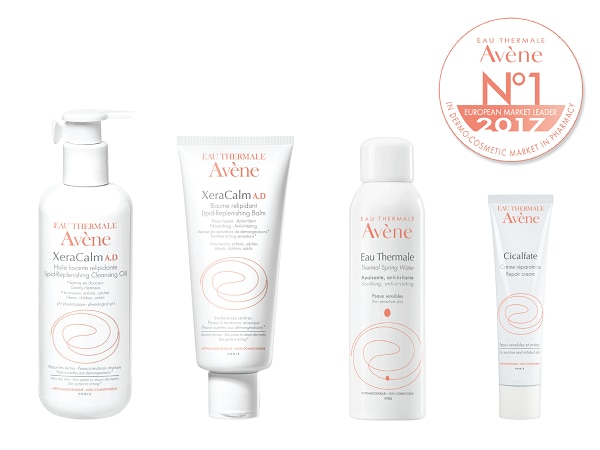 XeraCalm A.D Lipid-Replenishing Cleansing Oil
: A gentle daily cleanser that nourishes and soothes. Fragrance-free. RSP R249.95
XeraCalm A.D Lipid-Replenishing Balm
: A patented 100% sterile nourishing balm formulated to replenish the skin's protective barrier and relieve itching. RSP R319.95
Avène Thermal Spring Water Spray
: A natural, pure water spray to soothe and calm the skin. RSP R159.95
Cicalfate Cream
: A restorative cream for use on dry lesions and scratches. RSP 199.95
Source: IQVIA – Pharmatrend International – Dermo cosmetic market in pharmacy in Germany, Austria, Belgium, Spain, France, Italy, Portugal & Switzerland – year 2017 – in volume and value